Sponsorship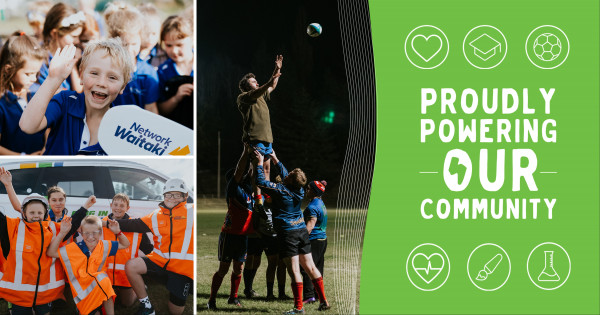 In addition to providing a safe, reliable and efficient network that powers homes and businesses, we are also dedicated to supporting initiatives that make a difference to our community. 'Giving back' is an ideal way for us to celebrate and assist with the wellbeing, growth and development of our region.
Every year Network Waitaki invests in our local community through a wide range of projects, programmes or activities ranging from community health care, maintenance or upgrading of sport facilities through to the greater involvement of those with disabilities, the arts and education.
Applications are now open for the 2022 Network Waitaki Sponsorship Programme please fill out an application here and return to sponsorship@networkwaitaki.co.nz by 5pm on Thursday, 31 March 2022.
Application Process and Key Dates:
Complete the attached Application Form and submit by 5pm on Thursday, 31 March 2022 - preferably in electronic format.
Include your latest set of Annual Accounts along with a budget for the project, programme or activity you are requesting sponsorship for.*
Include proof of bank account details e.g. bank deposit slip
Applications are then reviewed by our Sponsorship Evaluation Committee.*
Applicants will be notified in June 2022 on the outcome of their application.
Successful recipients will be published in the Oamaru Mail and online in July 2022.
* Criteria:
Community groups and organisations must be within the Network Waitaki network area.
We are unable to consider funding for people, resourcing, wages, cash prizes or travel.
Successful recipients must be willing to sign and adhere to a Terms of Agreement prior to receiving the Grant.
All recipients must be prepared to provide photos** of the project sponsored by Network Waitaki for Network Waitaki to use in promotional and publicity material.
Applications that are not fully completed and/or lack supporting material cannot be considered.
Depending on the range and level of applications, we reserve the right to consider part or full sponsorship of the value requested.
** All photos must feature Network Waitaki logo/signage in the photo to acknowledge the Sponsorship Grant. Logos/Signage can be provided by contacting Network Waitaki.