Electric vehicles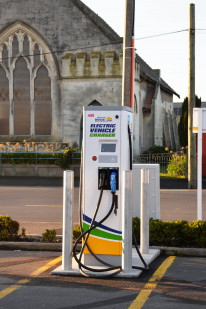 Network Waitaki encourages a zero emissions future. Since 2017, we have provided free usage of our 4 EV 50kW fast chargers around the district.
This was to encourage the uptake and usage of electric vehicles in our region.
From 1st April 2021, Network Waitaki is partnering with ChargeNet, joining their network of over 200 fast chargers throughout New Zealand. The charging fee will be 25c per kWh plus 25c per minute.
This allows us to continue providing this service, expand our fast charger network, and ease congestion at our chargers for other users.
Our chargers are listed on www.plugshare.com.
There are two Electric Vehicle car parks at each station, and they are fitted with CHAdeMO and CCS Type 2 plugs. They are available 24 hours a day.
Please contact us at 0800 440 220 if you have any questions regarding our charging stations.
Having issues charging your car? Click on the image below to find some help.